If you have just bought a Starship kit, go all the way down to the Support section to download the assembly manual and control software.
This model is based on actual flight hardware, designed and manufactured by Space Exploration Technologies Corporation (a.k.a., SpaceX). It is NOT officially endorsed or licensed by SpaceX.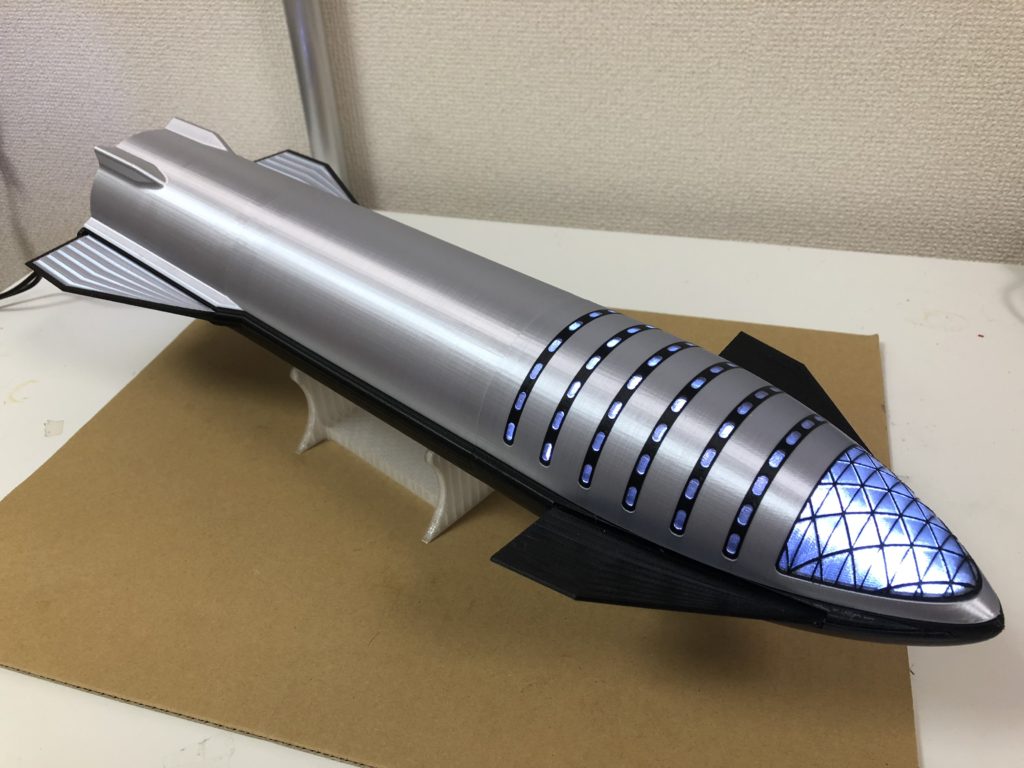 Kit description
The ship model is the same as the one showcased on YouTube (https://youtu.be/vtlpLyk1EiA) except for a few improvements
The upper halve of the hull is printed in Silk Silver PLA. This gives a shiny steel-like aspect, which look way better than in the YouTube video.
The lattice of the front window is black instead of grey. This unifies the design with the small windows which have a black frame around.
Dimensions
Scale: 1/100
Length: 50cm (20 inches)
Hull diameter: 9cm (3.5 inches)
Wingspan: 18cm (7 inches)
Functions
All the engines light up
The windows light up
The 4 fins move
Included in the kit:
The 3d printed parts for the ship itself including the internal mechanics
The LEDs for the engines and windows
The servomotors for the 4 fins
The control board and microcontrollers with the firmware already installed
Power cable
USB cable
Two stands: one horizontal display and one vertical display
Assembly
No painting needed, but you have to solder the LEDs and control board.
Some parts must be glued together.
The assembly manual will be available as a PDF to download.
Basic model-making skills and soldering skills is required.
You should be able to assemble the kit in 2 days.
Power
The kit comes with a 5V power adapter.
Control
When you power up Starship, all the lights turn on. After about 10 s the fins start moving for 2 mins, then stop for 28 min. The cycle repeats every 30 min.
When Starship is connected to a computer via the USB cable, you can control the servomotors and the lights using a dedicated software. The software allows you to:
Finely tune the motion range of the servomotors
Manually move the fins
Change the color of the lights
Manually switch on/off the lights
How to get one
Purchase your Starship kit from the online shop.
Shipping
Kits are shipped from Japan by EMS. I will notify you the tracking number once the parcel has shipped. Delivery time is under one week for most of the world.
Support
Kit assembly manual (2020/02/15)